European MSM (men who have sex with men) Internet Survey 2017: Response, Demographics, Chemsex, PrEP.
---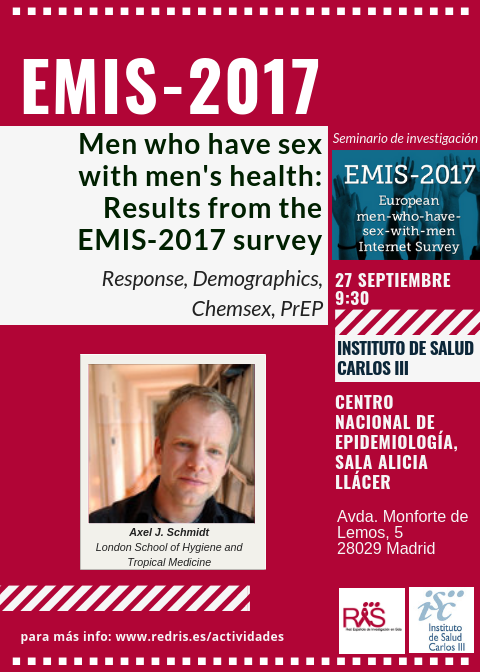 Ponente: Axel J. Schmidt. Faculty of Public Health and Policy. London School of Hygiene & Tropical Medicine.
El estudio EMIS es el estudio europeo más importante sobre la salud de hombres que tienen sexo con otros hombres. Invitado por la Red Española de Investigación en Sida (RIS), el investigador Axel Schmidt aborda en este seminario las cuestiones y resultados más significativos del proyecto. Schmidt es epidemiólogo y médico clínico. Actualmente trabaja en London School of Hygiene and Tropical Medicine (Londres). El seminario se imparte en inglés.
Date: 27-09-2018
Time: 09:30
Place: Centro Nacional de Epidemiología – Sala de seminarios Alicia Llácer. Instituto de Salud Carlos III – Pabellón 12 – Planta baja